Bowflex SelectTech 552 Adjustable Dumbbells Review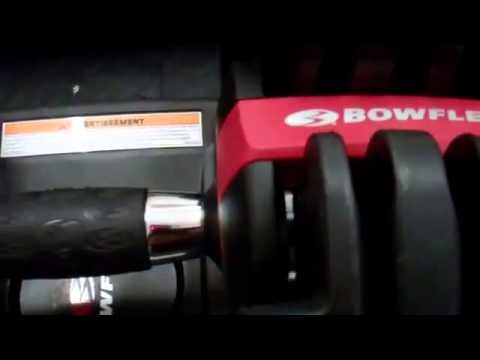 Product Description:
The Bowflex SelectTech 552 Adjustable Dumbbells with a little care on your part could replace 15 pairs of dumbbells in a little larger space than a sixty-pound pair. I get to care and the length of a bit.
SelectTech is a dialing mechanism that makes it easy to dial to easily marked settings.
Product Features:
15 different weight settings; 5lbs, 7.5lbs, 10lbs, 12.5lbs, 15lbs, 17.5lbs, 20lbs, 22.5lbs, 25lbs, 30lbs, 35lb, 40lbs, 45lbs, 50lb and 52. 5lbs.
Space saver design replaces 15 pairs of dumbbells.
Free "Secrets of the 4 Step Rep" with 30 exercises with over 80 variations you can perform with Bowflex SelectTech 552.
SelectTech dialing system for change within seconds.
2 year limited free repair or replacement warranty for parts or plates.
Individual dumbbell size = 15.8 inches by 8 inches by 9 inches.
Individual dumbbell weight = 52. 5lbs.
Good Points:
1) Easy To Use: The visual dial system is easy to use and easy to see. Great for those exercise routines that do not give you a lot of rest time.
2) Space-Saving Design: All adjustable dumbbells have this design. However, Bowflex SelectTech 552 Adjustable Dumbbells allow 2.5-pound incremental change, which means it is replacing even more dumbbells.
3) 2. 5lb Increments: When you push yourself hard, you need to have access to smaller changes. Many adjustable dumbbells have a minimum 5lb incremental change. For an exercise that uses a 10-pound dumbbell, jumping to 15 pounds is a 50% jump. It could be hard to make. 2.5 pounds is an easier step to take. And often a safer one.
4) Comfortable Grips: I have mentioned this in my other posts. I like the ergonomic design in dumbbell handles to fit my hands, especially with the injuries I have had. Bowflex SelectTech 552 Adjustable Dumbbells provides that.
Bad Points:
1) Bulky Design: 15.8 inches is pretty long. In some exercises, the dumbbells hit each other before you can complete the full range of motion. And in some exercises, you spend extra effort to keep the adjustable dumbbells away from you. You can adjust by changing your technique. However, you need to be careful how you do that.
2) Composite Plastic Parts: Bowflex SelectTech 552 Adjustable Dumbbells is made of composite plastic. You can't dump in on the floor regardless of how tired you are. I personally like this feature. Many injuries happened when we stop the rep and lose awareness that the exercise is not done until we set the weight down carefully. Maybe concern with the equipment could help you respect the ending of the motions. Also, you cannot lean on it for exercises like renegade pushups.
---
Related Weight Lifting Products